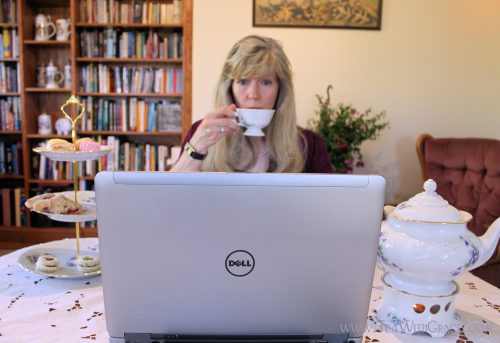 Can't get together for tea?
If you can't get together in person for tea, try a Zoom Tea! You can turn this:
Into this:
Making a Zoom Tea!
Bring joy to your friends and yourself. It is so easy!  All the participants can make their own tea and treats to accompany it.  Set a nice table if you can. And schedule a Zoom call.  The key is to choose a beautiful background image.  With a quick Internet search, you can find the famous tea rooms of London, or Boston, or New York. Choose a tea room or anywhere you would like to "have" tea. The Bahamas?  Butchart Gardens? You and your participants choose your saved image backgrounds in the Zoom interface.  And voila!  You feel like you are really having tea together in a beautiful tea room! It does truly transform the experience.
So, even in these uncertain and challenging times, you can experience the beauty and joy of tea. Together.